Fireworks Safety 
As millions of Pennsylvanians prepare for the Fourth of July celebrations, there are some fireworks-related precautionary measures that you should keep in mind.
The Consumer Product Safety Commission reported that, in 2018, there were five nonprofessional fireworks-related deaths and an estimated 9,100 patients were treated for fireworks injuries in hospital emergency rooms, nationwide. Approximately half of the injuries reported were burns, with the head, eyes, face, or ears, being the most frequently impacted part of the body. Thirty-six percent of those injuries involved children under the age of 15.
Smaller fireworks, such as sparklers, are one of the most significant risks to child safety. A sparkler is easy to use, but it is also easy to get hurt by a sparkler. The tip of a sparkler is scorching at 1200 degrees. At least 25 percent of children are injured to do sparklers.

They cannot be ignited or discharged on public or private property without the express permission of the property owner. Pennsylvanians who are at least 18-years-old may purchase and use Class C, otherwise known as consumer-grade, fireworks under state law. Certain restrictions apply, including:
They cannot be discharged from within a motor vehicle or building.
They cannot be discharged toward a motor vehicle or building.
They cannot be discharged within 150 feet of an occupied structure, whether or not a person is actually present.
They cannot be discharged while the person is under the influence of alcohol, a controlled substance, or another drug.
Local ordinances may include additional restrictions, so check with your municipality before purchasing or using Class C fireworks.
National Fire Protection Association (NFPA) statistics show fireworks start more than 18,500 fires per year and cause an average of $43 million in direct property damage.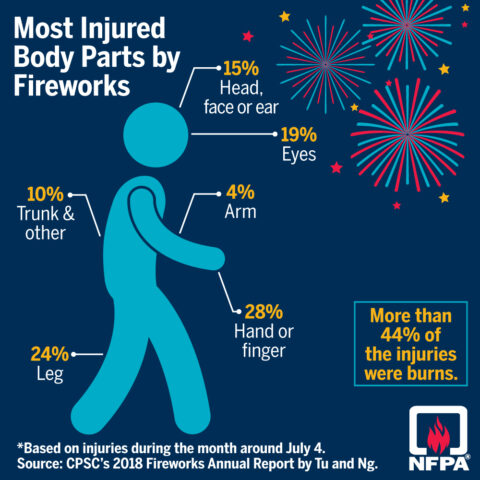 Provided by the Pennsylvania Emergency Management Agency, Ready PA.